Sweet Home Beef and Veggie Pot Roast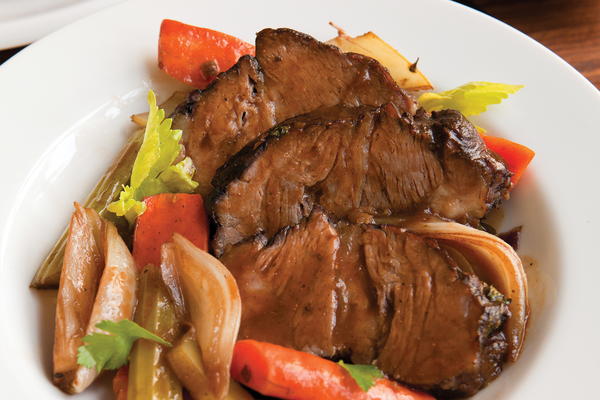 Let your slow cooker bring you tons of comfort with this recipe for Sweet Home Beef and Veggie Pot Roast from the "Diabetes Carb Control Cookbook." This beef pot roast slow cooks with some flavorful ingredients, including plenty of fresh veggies.
What You'll Need
cooking spray
4 medium carrots, scrubbed, halved lengthwise, and cut into 3-inch pieces
1 medium onion (4 ounces), cut in eighths
2 medium celery stalks, halved lengthwise and cut into 3-inch pieces
1

1

/

4

pound boneless lean chuck roast, trimmed of fat
2 tablespoons water
1 tablespoon balsamic vinegar
2 teaspoons Worcestershire sauce

1

/

2

teaspoon black pepper
1 ounce packet dried onion soup mix
What to Do
Coat a 3 1/2- 4 quart slow cooker with cooking spray. Place the carrots, onion, and celery in bottom of the slow cooker. Top with the beef. Spoon the water, vinegar, and Worcestershire over the beef. Sprinkle evenly with black pepper and onion soup mix. Cover and cook on high setting for 4 hours or on low setting for 8 hours.
Notes
Cook's Tip: When buying chuck roast, purchase 4 ounces or more than the required amount in ingredient list, because there is "hidden" fat that may need to be trimmed on the underside of the beef or throughout beef. The weight given in the ingredient list is the weight AFTER it has been trimmed of fat.
Exchanges/Food Choices: 1/2 Starch | 1 Vegetable |  4 Lean Meat
Click here to enter for a chance to win a copy of the Diabetes Carb Control Cookbook!
Nutritional Information: Calories 250 | Calories from Fat 50 | Total Fat 6g | Saturated Fat 2g | Trans Fat 0g | Cholesterol 90mg | Sodium 506mg | Potassium 800mg | Total Carbohydrate 15g | Dietary Fiber 3g | Sugars 6g | Protein 33g | Phosphorus 330mg
Copyright © 2014 American Diabetes Association. From Diabetes Carb Control Cookbook. Reprinted with permission from The American Diabetes Association. To order this book call 1-800-232-6733 or order online at ShopDiabetes.org.
Your Recently Viewed Recipes